According to many geological and environmental experts Pakistan would face serious water crisis by the year 2025.
Pakistan is ranked 36th most water-stressed country (Reference Dec 2013 World Water Resources Institute's Annual Report).
In Oct 2016 they declared Pakistan likely to become 23rd Most water stressed Country by 2040.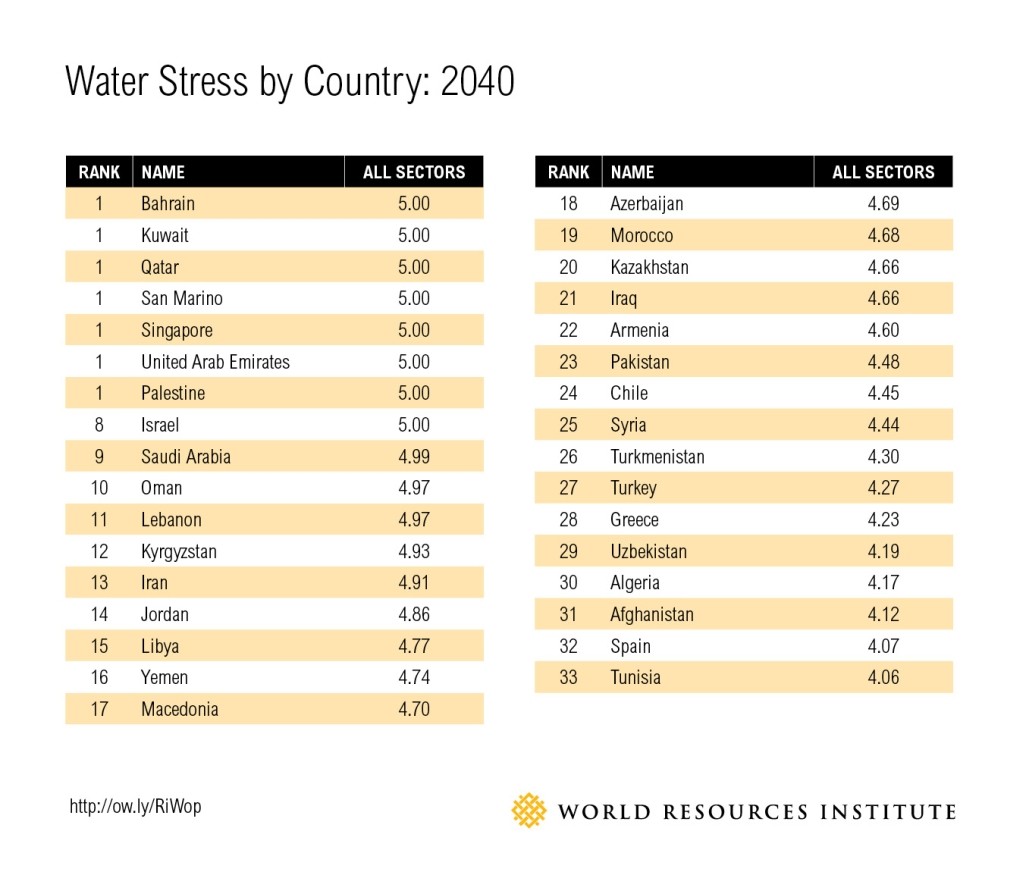 The renewable water resources in Pakistan decreased from 2,961 cubic metres per capita in 2000 to 1,420 cubic metres in 2005, according to UN World Water Development Report. Therefore, compared to the per capita water availability in 1950s, it has fallen to less than a third now.
High population growth rate, global warming and reliance on a single river system are all contributors to the increasing water scarcity however, failure to harness 40 million acre feet of water annually falling unused in the Arabian Sea is also a major factor.
Unless efforts are made to restore the water received from rivers and rainfall, this rapid depletion of water may turn Pakistan into a water scarce country.
Considering that Pakistan's 21 percent economy is based on agriculture, problems of food shortage, high inflation and irrigation water scarcity are still prevalent.
Energy crisis is another pertinent issue in the country, linked directly with high inflation. Consequently, Pakistan urgently needs water storage and hydroelectric power projects to meet the mounting demands of water and power for economic growth.
This is where Kalabagh dam comes into the picture, a highly controversial project since the beginning. Conceived in 1953, it was initially planned out to be a water storage place, until 1973 to 1984 when the design was changed to make it a multi-functional mega dam.
If completed, it will submerge 35000 acres of land, generating 3600 MW of hydel power with storage capacity of 6.7 MAF for flood control, supplying 12.8 MAF water to Mianwali, Khushab, D.I. Khan and Jhelum districts for irrigation. 
Political Confrontation on Kalabagh Dam
Unfortunately Political Leadership in Pakistan has never been aligned on the construction of Kalabagh Dam. Hundred of Million rupees have been already wasted campaigning in favour of or against Kalabagh Damn but all in vain.
Some of the locals feel they will loose their land and would require to migrate. Many others think they should get a lot more money than actually justified to vacate space for Kalabagh Dam. Many on River Indus ahead of Kalabagh feel they would loose water in canals for irrigations. Apprehensions and assumptions have lead to indecisiveness of the State.
However no sincere media campaign has ever been launched by any political government for the fear of loosing votes. Many Pakistani's wait for some Marshal Law Dictator or a Military General to take the lead on Kalabagh.
Some of the popular leaders like Imran Khan tried supporting Kalabagh Dam at one instance and then backed away while talking to people in Sindh. some of the radical leadersare even ready to lead civil war in case someone tries to start the Kalabagh Project
Pervez Musharraf tried re-inforcing the project in 2005, in the larger interest of the country.
During PPP government the project was discarded as resolutions were passed against it by Sindh and KPK assemblies.
The political leaders from Balochistan also opposed the Lahore High Court verdict to go ahead with the construction of the dam.  
Proponents advocating construction of the dam
The advocates of this project argue on the basis of water shortage and the need for generating electricity, as both the issues can be addressed through the construction of Kalabagh dam.
It is expected to produce 3,600 additional megawatts of electricity and per unit cost will reduce as low as two rupees where thermal power costs Rs16 per unit.
This additional electricity will also reduce the dependency on imported fuels.
It is further campaigned that with the large water reservoir, the irrigation needs of all four provinces will be reasonably met.
Furthermore, it will also play a key role in prevention of floods and in averting the devastation in KPK, Central and Southern Punjab and Sindh.
The direct benefits after the dam will be functional will amount to 25 billion per annum, this way the investment cost will be covered within a period of 9-10 years.
Another incentive is the creation of employment opportunities for 30,000 persons during construction and significant numbers after commissioning. It is also reported that Punjab has agreed not to claim any royalty on the electricity produced at Kalabagh dam, which addresses at least one objection of other provinces.
Critics of the Kalabagh dam
While the opponents of Kalabagh dam mainly Sindh and KPK have some apprehensions pertaining to the construction of the dam, there are also issues related to trust deficit.
The project is not only believed to be useless but there is a whole debate surrounding the serious environmental and human impacts this construction is going to have. KPK objects to Kalabagh because it will lead to the displacement of a sizable number of its people and a large area of its land will either be submerged or become waterlogged.
Moreover, it is believed that the Nowshera city- home to 2000,000 people may come under severe threat of flooding as it is situated at the banks of Kabul River.
On the other hand, desertification being a significant issue in Sindh, it has constantly felt threatened by Punjab and it refuses to trust the province that the whole River Indus waters will not be left to cater the needs of Punjab only, drying out the downstream Sindh river.
These apprehensions are rooted in past experience of the operation of Taunsa-Punjnad and Chashma-Jehlum canal. The opposition of Balochistan to Kalabagh is also based on the belief that if the dam overstretches the demand in the river than the requests for more water through Guddu Barrage (irrigating about 300,00 acres in the province) will be met with little success.
Other serious issues such as environmental degradation and human impacts- rehabilitation and resettlement as a result of construction have also been raised. Most importantly, it is believed that the location of the dam is on a fault line. 
Conclusion
Pakistan has used only about 10 percent of its estimated 40,000 mw of economically viable hydropower potential, a proportion around 30 percent lower than India and China and around 75 percent lower than other developed states.
The country is not only facing severe electricity shortage but despite the best irrigation system, it still imports wheat on credit from abroad.
Kalabagh dam has rather become a crisis of governance; existing trust deficit between Punjab on one side and the other three provinces on the other is the fundamental issue. It is not for the politicians or courts to decide whether this dam should be constructed. A national level debate is required addressing the concerns of Sindh and KPK based on scientific study of the project. For this purpose political scientists from all four provinces should conduct a study and present the feasibility report at the federal level.
It would be a positive development if the report gives a green signal to the construction.
However, if the report finds some accuracy in the issues raised by Sindh and KPK such as drowning of Nowshera and location being on the fault line, it is time to move forward for good and think of other sustainable projects.